2014 Divas Half Marathon
Myrtle Beach, SC
Warning: This is long. What did you expect? I've only been talking about this half marathon for how long now?
You'll survive. Go get a glass of sweet tea and put your feet up, while you read.
*****

As I sat down to write this race report, I thought of all the other reports I've written and how I've always tried to make them somewhat humorous. However, this particular race unfolded in a completely different sort of way. Here, let me tell you what happened.....
All spring I have been training for the Divas Half Marathon. Yet, I was not as focused during training for this half as I was for my first one, last October. (
Read that race report here.
) First of all, I was training alone. Second, I got the flu. It took a good three weeks to feel normal after that. Third, I bonked on my 11 mile training run. And that incident scared the bejeebies out of me so badly that I came down with a huge case of the nerves very early on. Any goals I had set for myself at this point was pretty much out the window. I had to find a way to get my composure back and fast. So, I did what I always do in times of trouble.....I prayed! Not only did I pray, but I enlisted prayer from two of the sweetest prayer warriors ever. Mama and Joyce, my neighbor at the beach. These two ladies have the most faith of anyone I know. I was on the phone with Joyce early last week and was telling her about my nerves and said to her that I know it is a very small thing to ask prayer for, but would she mind whispering a prayer for me that I could get over these nerves. And what she told me totally changed my view of how we should approach our problems, as minute as they may be in this big world with so many problems and hurting people. She told me to praise God for a good race ahead of time.
I took Joyce's advice and began praising God for all the things that were concerning me....I praised Him for strength, endurance to finish the 13.1 miles, stamina to maintain a certain pace.....praise that my ankle would not hurt and that my hip would not tighten up or that I wouldn't bonk again. Joyce's advice put things into perspective for me. At that moment, I wasn't worried about what my competitive side wanted...passing people, not finishing last, etc. With this new focus, I changed how I viewed things and realized that when my heart was in the right place, that nothing is too small to ask God. I realized that he cares for the things I care about and wants me to do well. There is a passage in the Bible that proves this and it's found in Matthew 6:26. Here Jesus is talking about worry. He said, "...Look at the birds in the air. They don't plant or harvest or store food in barns, but your heavenly Father feeds them. And you know that you are worth much more than the birds." I was changed. My fears and anxiety and nerves went away. I hardly thought about them again and if I felt them starting to rise up, I just praised God.
Sunday morning, let's just say my gut nerves acted up a little, but I really didn't feel nervous. When Cliff and I got to the race and stepped foot on the race course, I couldn't wait to begin running. The atmosphere was electrifying. I heard that between the 5K and half marathon participants, there was somewhere in the neighborhood of 5000 racers there. Music was playing, people were dancing and I was literally bouncing up and down. And then I noticed something significant......my legs felt strong and warm. My ankle was not hurting and I felt a lightness that I haven't felt but maybe once or twice ever, while running. And I just smiled!
The race began and because there were so many people there, it took at least two minutes for me to cross the start line and another few seconds to actually begin running. But when I did, I had the wind beneath my wings. The race progressed along. I worked my plan as far as nutrition and hydration - stopping for water and Gatorade at every water station and taking gels every 3 miles. I couldn't really control my pace that well because I was overdosing on adrenaline. I went out way too fast, as usual. After a couple of miles, though, I was able to take control of that. I really felt like running faster, but I knew if I did that I would pay for it on the back half of the race. Along the way, I saw a girl sidelined and being looked after by the medics because of an asthma attack. And later, another girl had to be carried away by ambulance. I didn't find out what happened to her. My heart went out to them. Cliff met me in different locations along the route, snapping pictures and making sure I was ok. I sure love that man! And I love how when I need a little something, whether it's moral support or a familiar face, he pops up. And
that
strengthens me for a while longer.
Between mile 5 and 6......
If I have a sweet zone, I would say that it's between mile 4 and 8. By mile 4, my muscles have completely warmed up. And for the next 4 miles, I settle into a rhythm with my breathing and cadence.
Around the 9 mile mark, I started getting fatigued and my pace slowed a good bit. If I started feeling anything that could potentially cause problems, e.g. hurting ankles...I just praised God for no pain and whatever I may have been feeling went away. During the times I felt really hot and fatigued, a breeze would begin to blow and cool me. It was amazing.
From mile 10 through mile 11, we ran through a subdivision with fountains shooting water up from very small lakes. I felt the urge to go swimming, but I managed to not go there. I picked the pace back up a little around this point and then sometime after mile 11, I noticed my calves started tightening up. I was concerned enough at that point that I knew I would not make my goal of finishing in 2:45 hours. So, I quickly set a new goal. I asked God to please let me finish in under 3 hours. I didn't care if it was 2:58.....just as long as it was under 3 hours. Lo and behold, as you will see later, that was another answered prayer.
At mile 12, the tightening in my calves turned into cramps. I hydrated well along the route with water and Gatorade, so I didn't understand why I was getting cramps. I mean...I know the reasoning behind it, just thought I was doing what I needed to avoid them. But the cramps persisted, especially when I tried to speed up. I decided to play it safe and keep running a comfortable pace.
Just before mile 13, we went through the tiara and boa station where we were adorned as Divas. I draped the boa around my neck and placed the tiara on my head and ran on. Usually, I will sprint that last quarter of a mile to the finish, but that was impossible Sunday. Every time I tried, the cramps got really bad and I felt like they might throw me to the ground. The very thought of falling right at the finish line, splayed out in front of half naked firemen and all those Divas, made me get the shivers. So, I just eased on through the finish line. Thankful for a great race.
Finished, water break and now on to get that medal....
Said shirtless hunky fireman....
Cliff met me at the finish and I proceeded on through the line to have that gorgeous bling-bling medal draped around my neck by one of the shirtless hunky firemen. We were given a rose, had our pictures made and left through the food line. My friend, Christie, met me at the finish with congratulations. It meant a lot to see her there. We are planning to run a half together in the fall. Can't wait.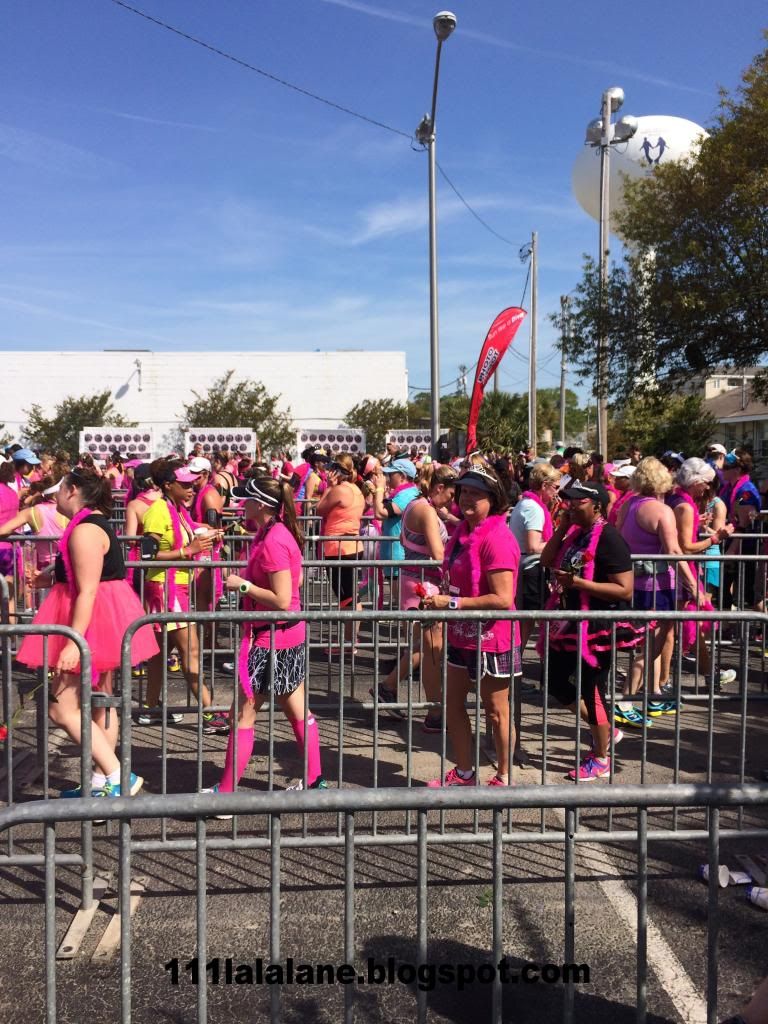 Waiting in the photo line.....
Cliff and I walked back to his jeep, which was parked down a very narrow street. School buses used this street as their transport route to pick up racers who parked further away. I was trying to be quick about getting into the jeep because there was a bus approaching. As I climbed up into the jeep, a cramp seized my right calf so bad that it made me yell. There I was, bunked up half-way inside the jeep trying to keep from getting hit by the school bus, yelling, "OMG! It hurts! What do I do to make it stop?!?" Just in the nick of time, I was able to get my bahunkus in far enough to close the jeep door before the school bus took me and the door off. Can you imagine? Oh glory, I held onto that cramp until it finally eased. And for the rest of the day, I was scared to flex my foot at all. So, if you're ever out and see someone walking all stiffed legged and repeating "owie" every step....you'll know that's a half marathon runner.
I'll wrap this race report up by saying....to God be the glory, I give him honor and praise.
And now, in case you were wondering....
Ran Half Marathon: 13.1 miles (My Garmin says 13.25, but whatev...)
Time: 2:58 hours (Lo and Behold....what did I tell you?)
Avg. Pace: 13:35
Overall Place: 2133 out of 2753
And since there were a few men who ran this race, Sex Place: 2108 out of 2718.
Lesson learned: If I care about it, then God cares about it. Nothing is too small.
Yes, I am still slow. Although, I PR'd at the Divas Half. Holler! I shaved 8 minutes off my first half marathon's time. What's next? I'm resting this week because I am sore as heck. I am supposed to run a 10K race this coming weekend, but we'll see how that goes. I'm going back in the gym this summer to work on getting stronger, especially core strength. I'll be riding my bike and adding a day of yoga. I'll continue to run, but not half marathon intensity or distance. And then by the end of the summer, I'll be back in training for the 'fall' half marathon. Please don't let my little antics scare you away from running, if you're interested. I wouldn't change any of my experiences. That's how we learn and grow. Hope you get out there and get some exercise this summer....it does a body good.
Til next time,