Campbell's Covered Bridge
Landrum, SC
Oooh, I'm so excited to share a treasure I found with you. I spent last weekend in the upstate with my sweet little Chiggers. Emily had to work the weekend shift at the hospital. So, I try to go up and help with the childcare situation as often as possible. I mean, hello, it's a win, win situation.
I get to see my babies and we get to play.
The upstate has a plethora of places to explore. And I love it! Since I was going to be there all weekend, we definitely had the time to get out and do some exploring. Surfing the net, I came across an attraction in the nearby town of Landrum, SC. It was an old covered bridge. OMG! "The Bridges of Madison County" immediately came to mind and I exclaimed with utter delight, "We have to go see that bridge"! So...Saturday morning, after packing a picnic lunch, the Chiggers and I went on a road trip. It was only a thirty minute or so drive, but to them it was a cross-country trip.......with no pit stops. Sawyer could so do one of those irritating commercials....."Are we there yet, Are we there yet?" Bless his heart. And he's so dramatic with it, too. He gets faint and feeble and wobbles over and flops around in the back seat. But then we get there and he's all a bundle of energy again. HaHa!
When we got to the bridge y'all, my jaws flopped open. Oh my gosh, that thing was gorgeous! And to Lidia and Sawyer's delight, there was running water and rocks to play on. Oh, and a lizard! Lidia is obsessed. She spent ten minutes trying to get him out of the nooks and cranny of the stone steps he was hiding in. She tried grabbing, coaxing and finally, sweet talking...it was a failure. She moseyed on.
First order of business, after the lizard fail that is, Lidia had to find a stick. Sawyer brought his own in the form of a Lego sword. He's obsessed, too. If we sold all the Lego stuff he owns, we would make a billion dollars. Finding a stick, though, was a piece of cake and once that task was accomplished they spent an hour running on the rocks and poking their sticks and swords in the creek.
A Duel
Lego Sword vs The Stick
The Putting Down of Weapons to play Swishy, Swishy
For me, I just SWOONED over the bridge. Look at it. Wouldn't you?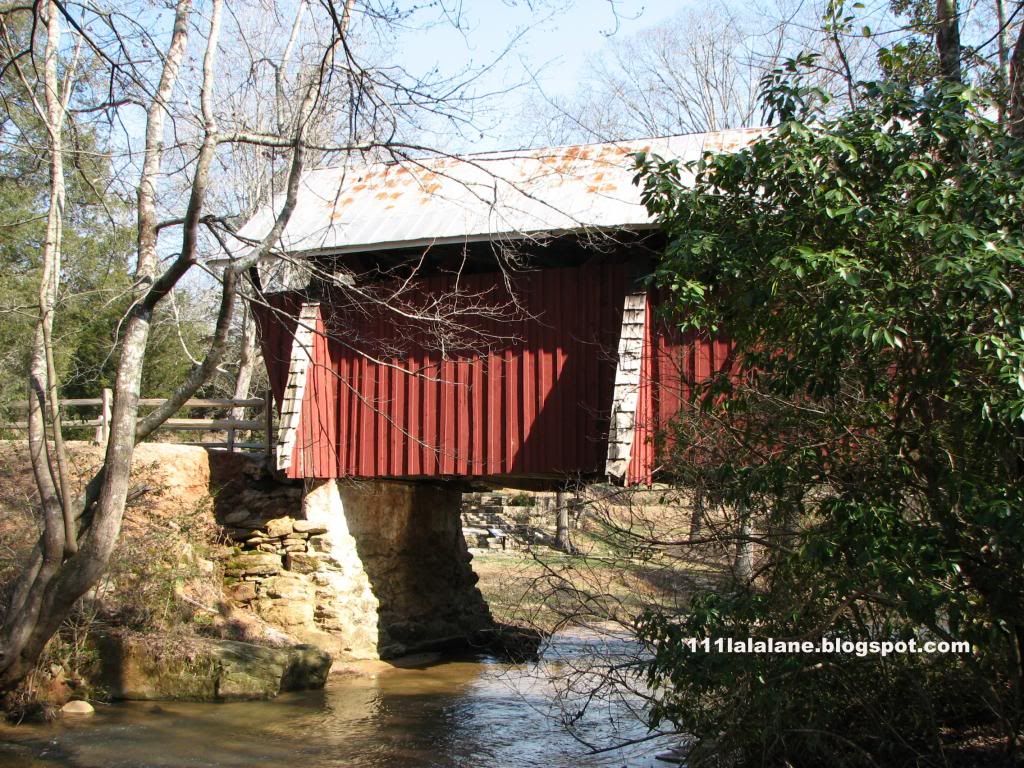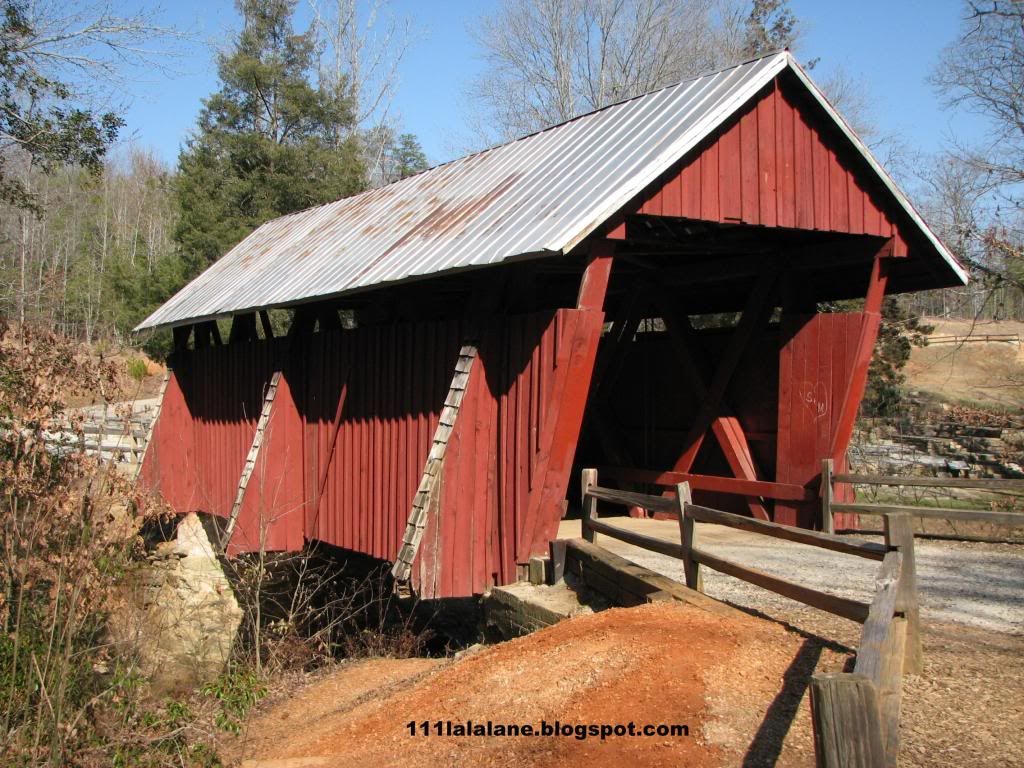 Wonder how many sweethearts have hidden away under the cover of this beautiful bridge?
A little history...built in 1909. That makes this bridge 105 years old. Wow!
After the picnic lunch, we started back home. On the way, I saw all sorts of antique shops. I was nearly drooling. But, I knew my little Chiggers would not tolerate a pit stop to an antique store, so I called up Terri and we've made plans to go on a Sista Sista's day of antiquing sometime soon.
Lidia, Sawyer and I had a great weekend and I just LOVE making memories like this with them. I'm looking forward to our next adventure.
Still Swooning,
In case you were wondering:
I have a 10k race this weekend. And, my sessions with the trainer at the gym is over.
Looking back, I miss my workouts with him. Why I feel this way, when all I felt like doing during the workouts was puking, is beyond me. But, I see a difference. Enough to make me continue on my own. By the end of the summer, I'm going to be ripped. HaHa! Yeah, we'll see.